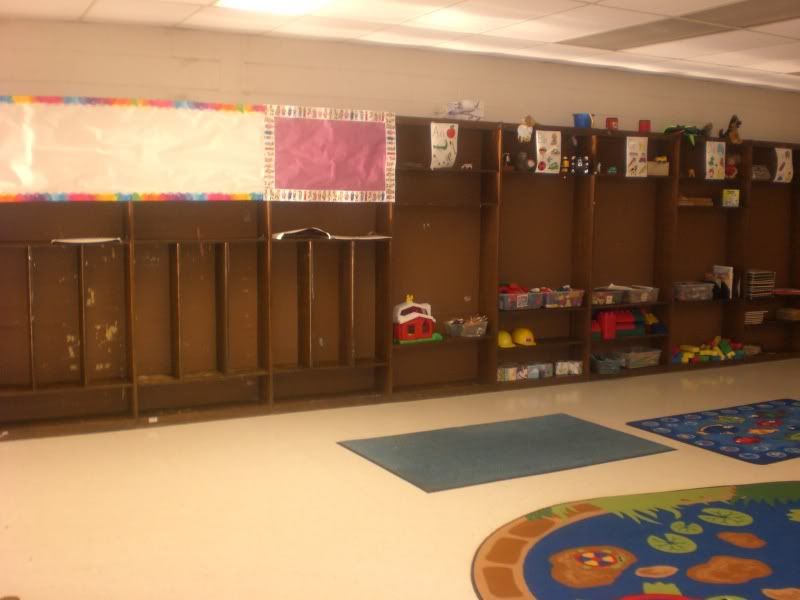 So we use bulletin board paper as backings. It takes a lot of tape to keep them up but they typically last an entire school year. We did have one come down right before Christmas this past year. On the last day of school Heather and I had to empty our room so the floors could be cleaned. We decided to go ahead and take this time to take down the old bulletin board papers as well. Most were drawn on, ripped, and needed to be replaced (the above photo was taken after this occured). Our shelves luckily are the perfect width and bulletin board paper fits perfectly in each section. Each center/cubbie section had a different color.
Here are two of our boys hiding in their cubbies. They love their cubbies. They know to put anything of theirs in their cubbie and they are also a comfort spot for them. They sit in them quite frequently, especially when mad/wanting to be alone. This day, an early day in June, they were playing. Each child has their own cubbie with a shelve above and below. They have a nametag tapped to the bottom of the cubby which I change four or five times a year. At the beginning of the year they colored crayon patterns. For Halloween/fall they had pumpkins. For winter they had either a snowman or a penguin. In February they painted hearts for them and in March they painted shamrocks. For the spring I colored the ones in the picture, 10 green frogs sitting on green lillypads. I think I used up every green marker we have. They liked coming back from school and seeing something different in their cubbies and comparing what they each had. Beneath their cubby on the shelf we put their bag of extra clothing. Not all of them bring extra clothes. On the shelf above is where we put papers, etc. that we haven't gotten a chance to put in their bookbags.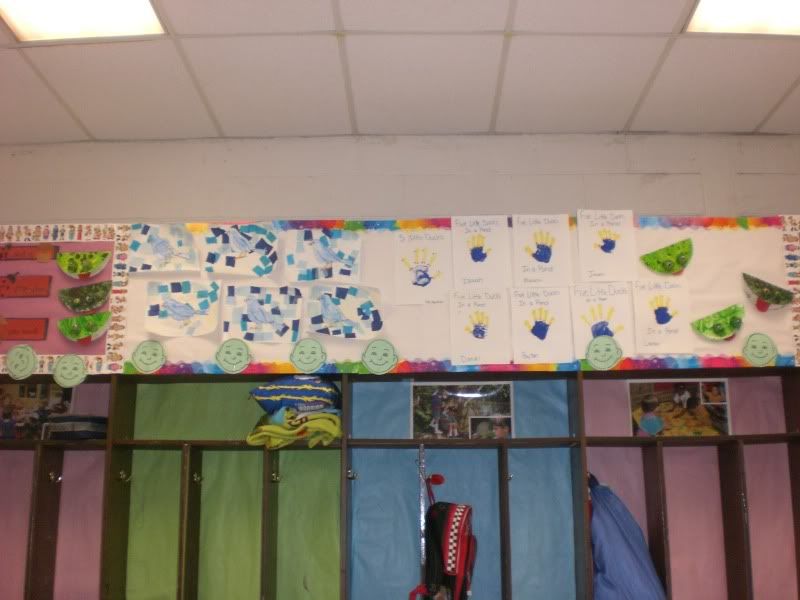 The smiley faces to be explained at a further time.
Our room used to be the school's library so it has a ton of built in bookshelves and cubbies. Well these bookshelves are old and ugly brown.